Map of shared memories of Madrid
February 2022 - May 2022
Work commissioned by
Fundación MAPFRE of Madrid
around the retrospective exhibition of the work of Jorge Ribalta
"Todo es verdad. Ficciones y documentos (1987-2020)"
.
The space that surrounds us shapes the relationship we have with ourselves and with our environment. The streets you walk through every day; that restaurant where you had your first date; the corner where you desperately cried after a robbery become the makeshift stages of your life's play. If we multiply this palimpsest of memories by all the people who inhabit the city, we will realize that each corner of the metropolis accumulates thousands of scenes about which we will never know anything.
Map of shared memories
is a participatory work, where the experiences of the people who transit the city become the central pillar of it.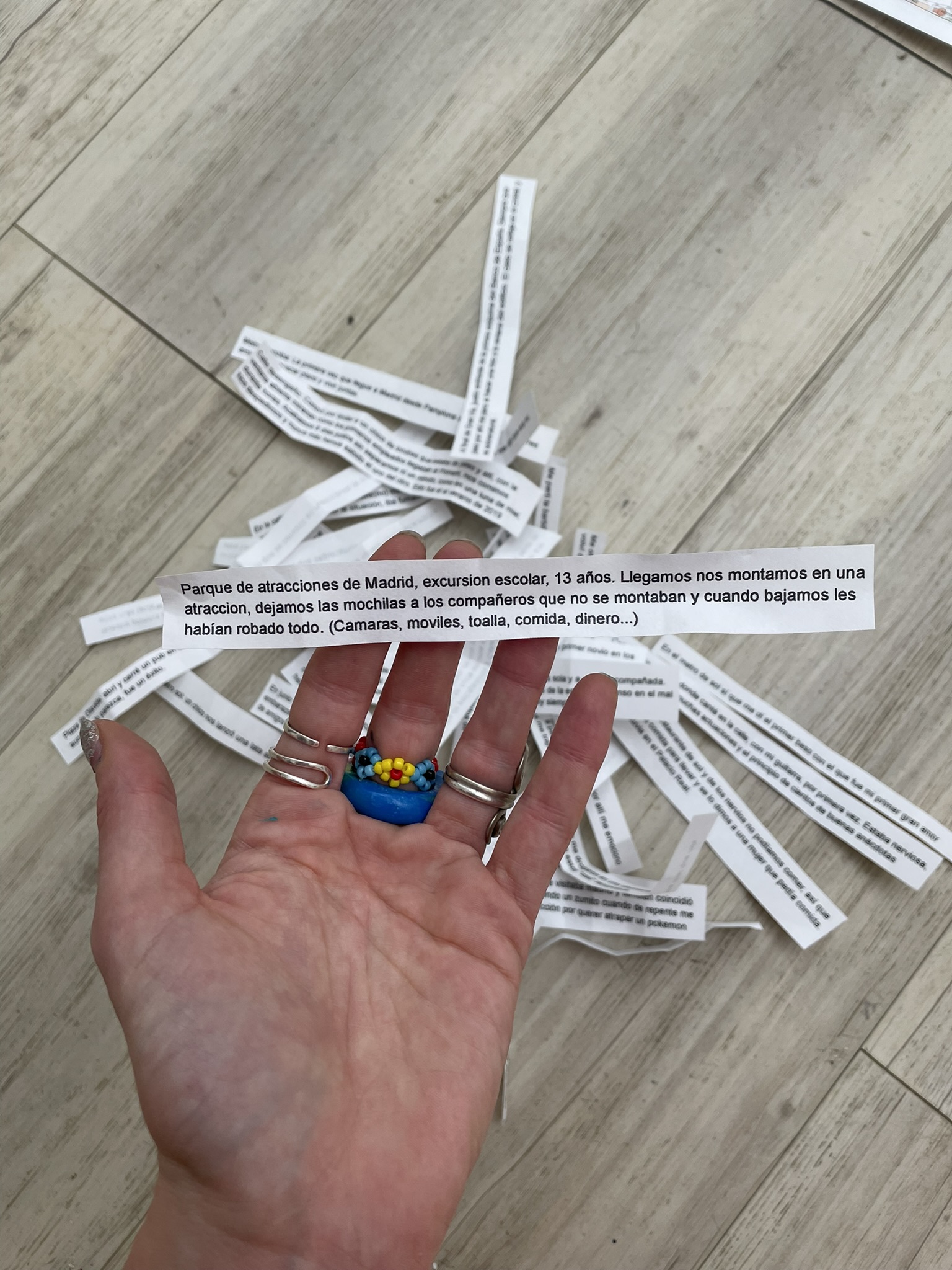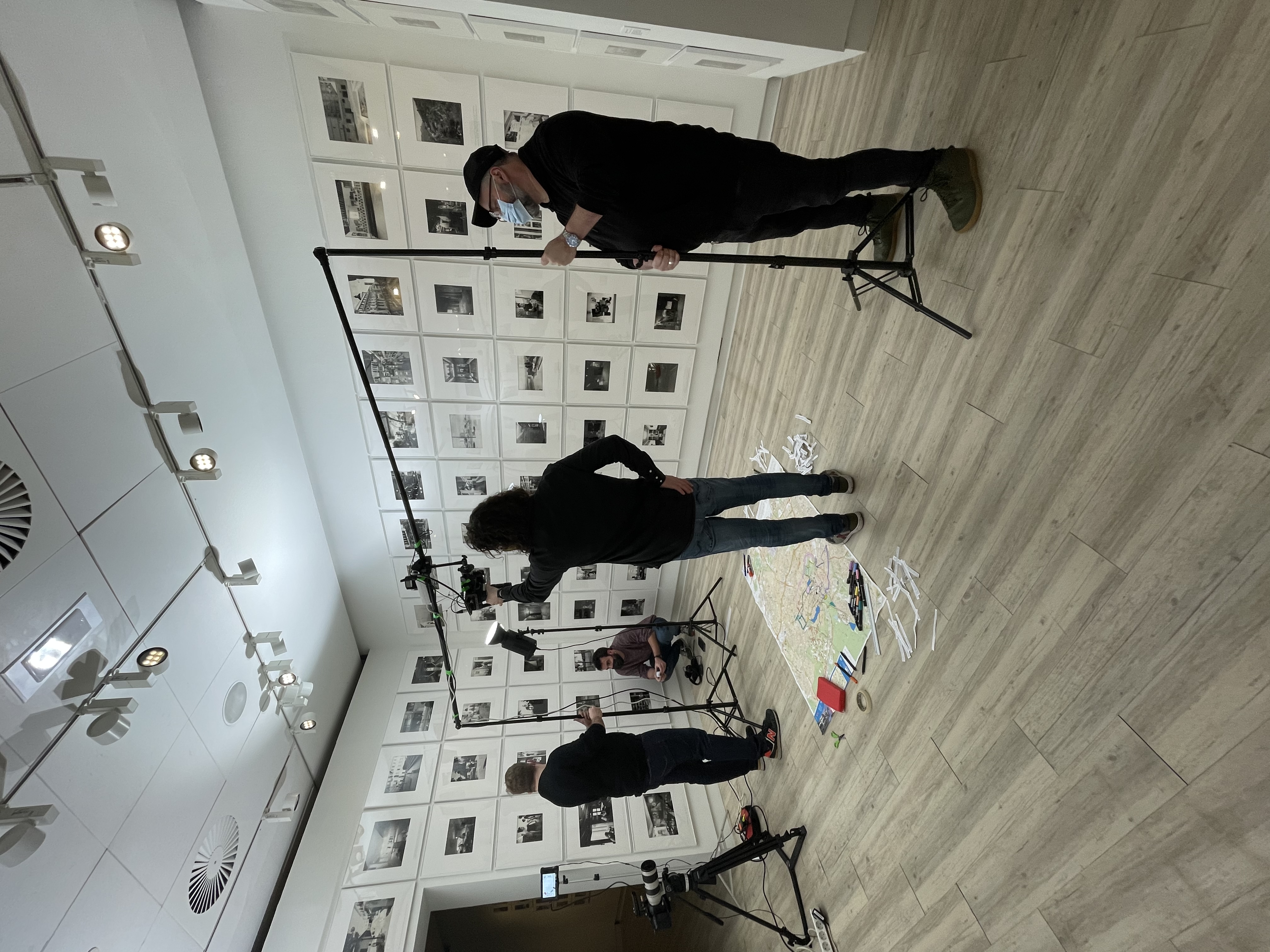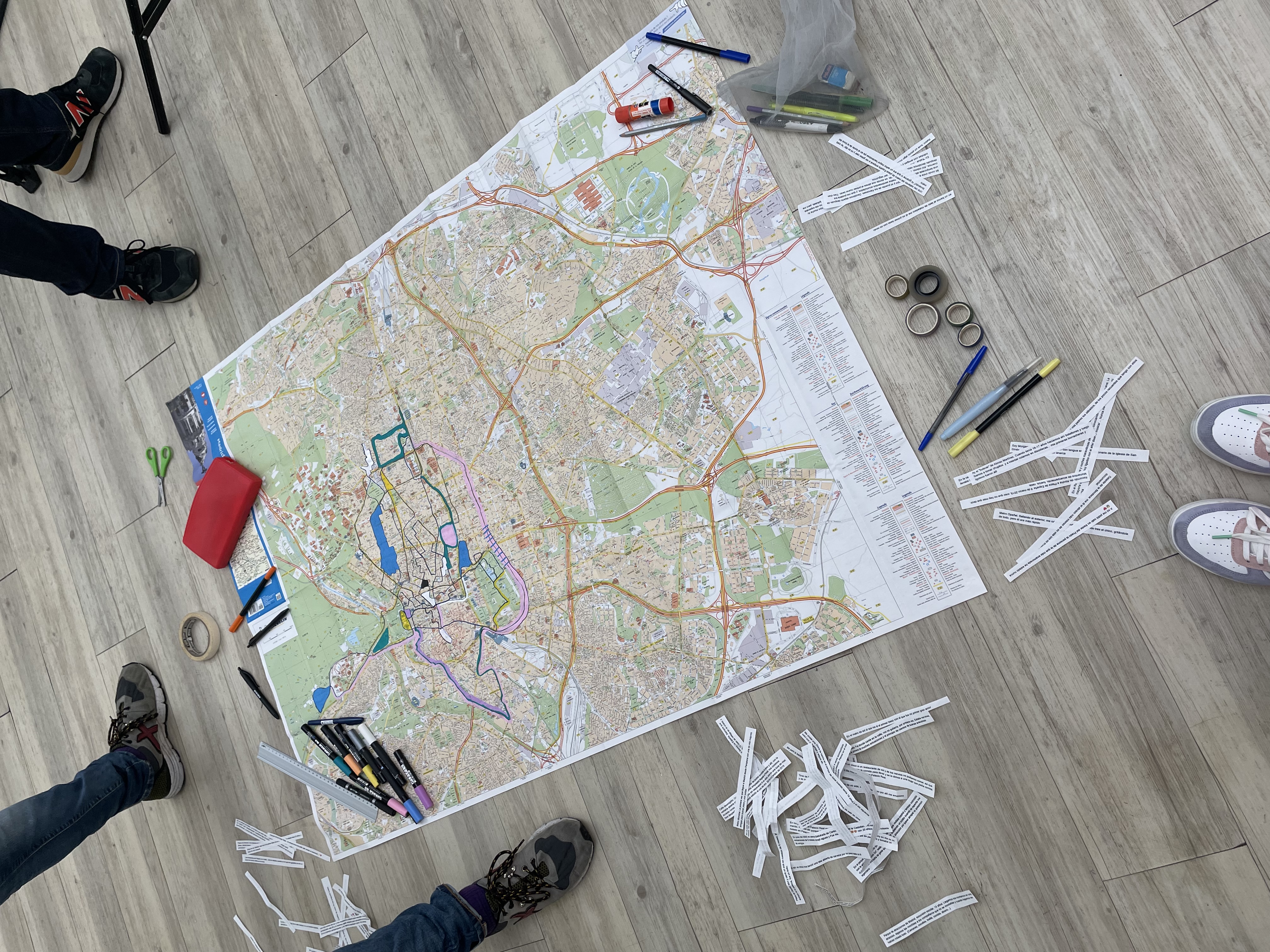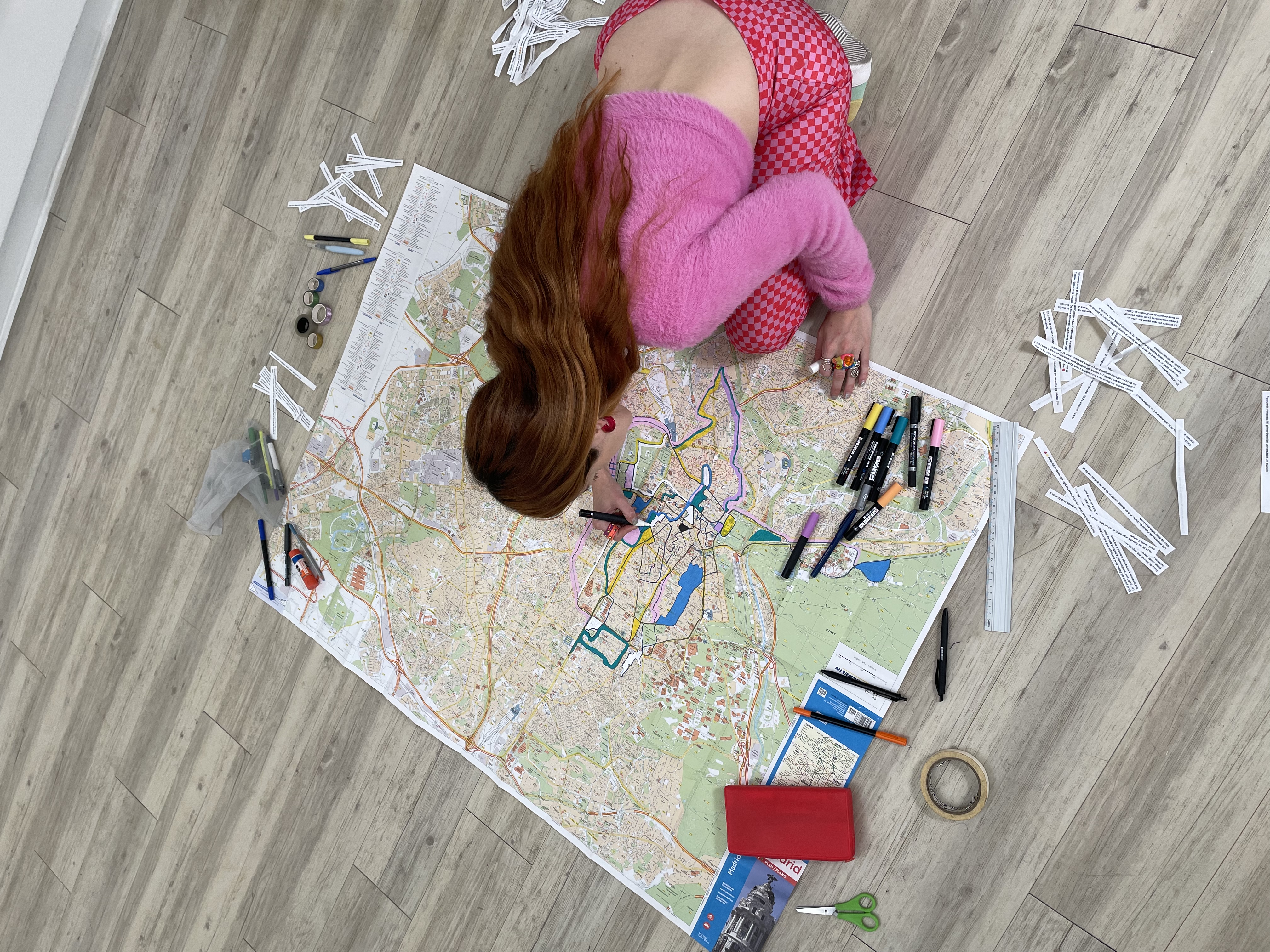 Through social networks, I compiled a series of short texts in which different people anonymously explained experiences they had on the streets of Madrid. This way, the metro station Sol becomes "the place where I met my best friend" or the Azca neighbourhood, "the place where I got drunk for the first time".
Choosing the texts at random, I traced a journey through the memories of dozens of strangers, turning each of these experiences into a link within this improvised itinerary through the streets of the city. The distance between the public space and the intimacy of our memory is shortened until the final result is reached: a map of shared memories. A plane of experiences between strangers.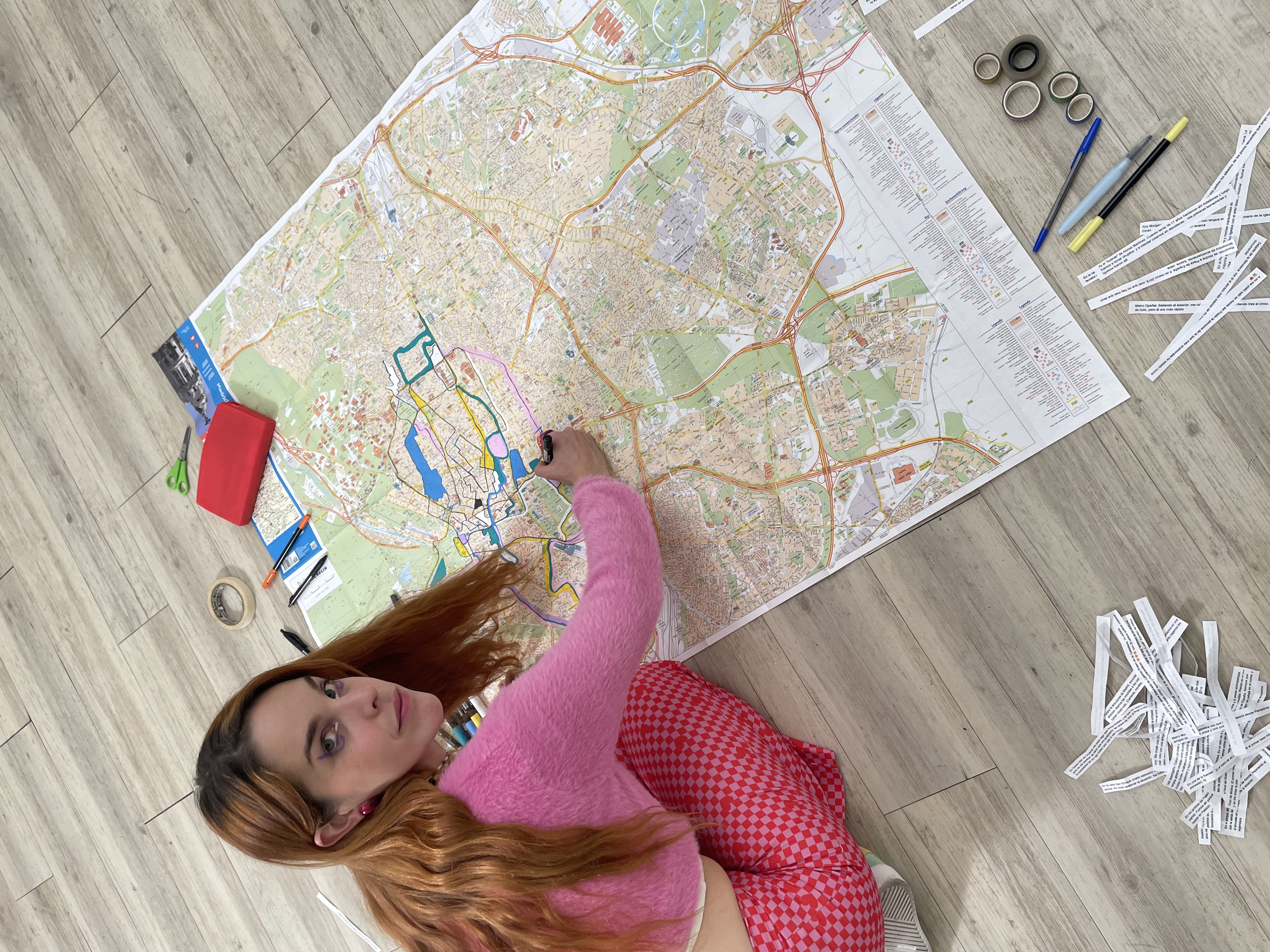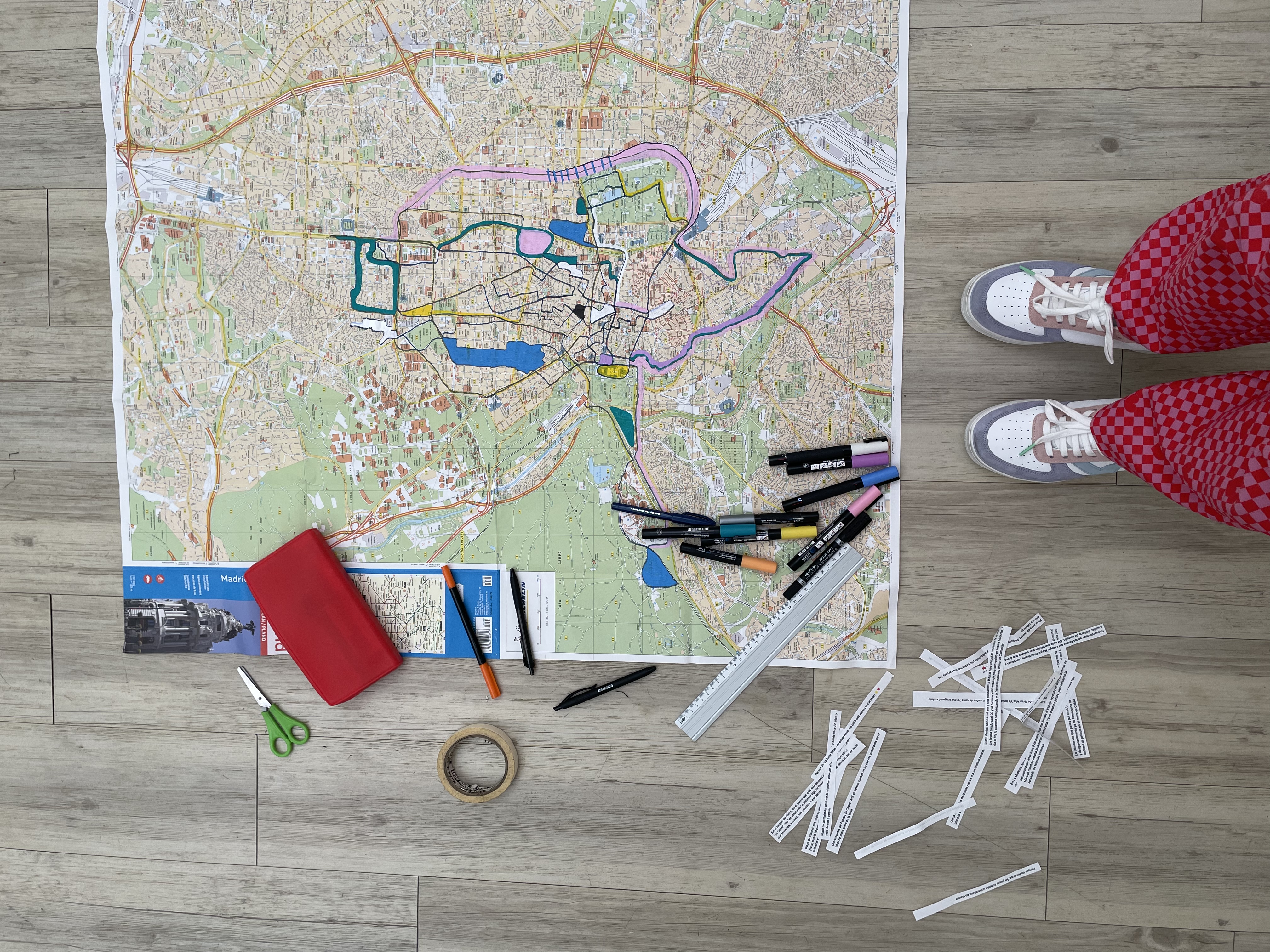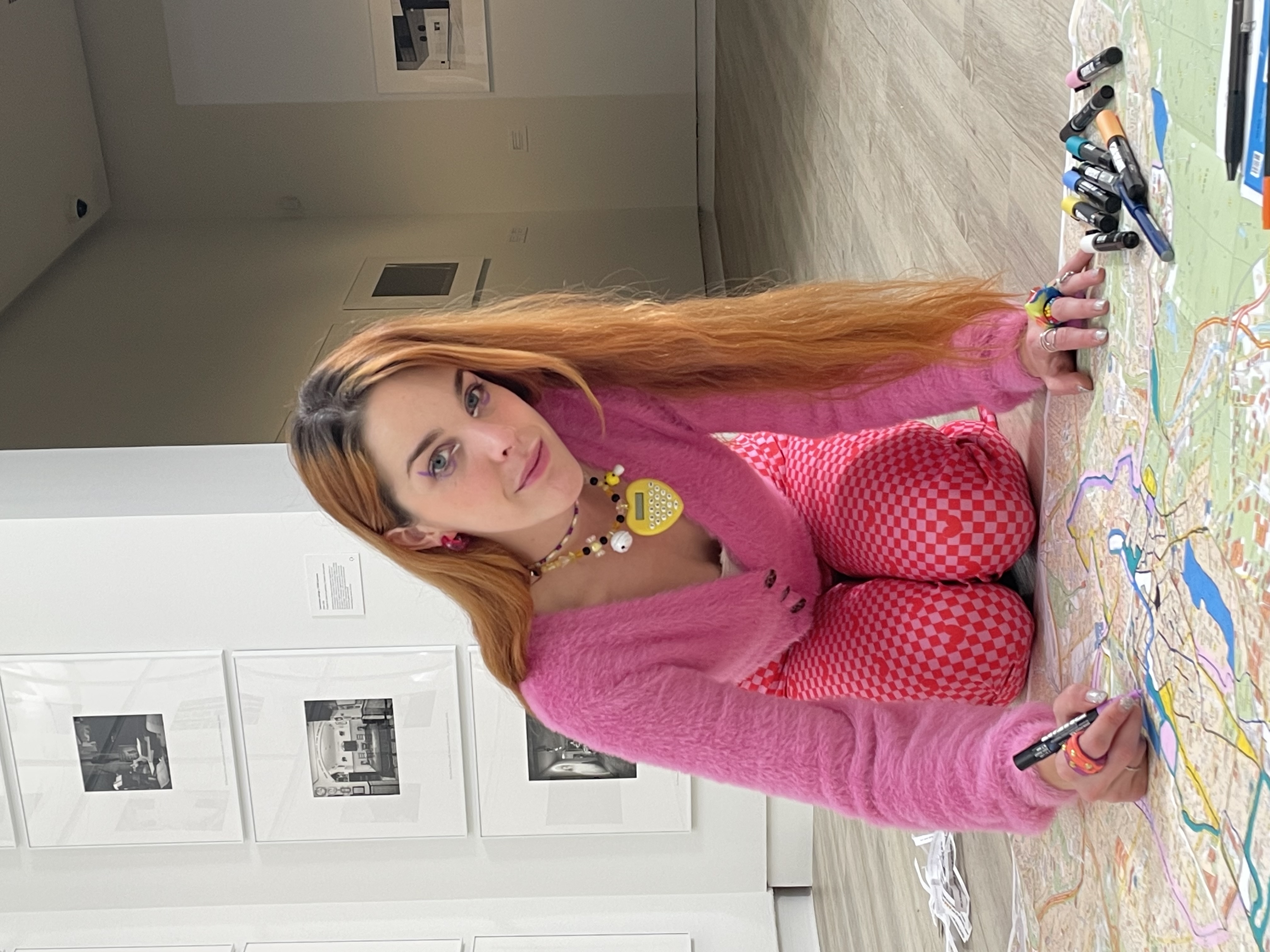 This is a multidisciplinary work that encompasses various formats and is constantly evolving. On a plastic level, the final work is composed of a map of the city intervened with mixed techniques. At a performative level, the creation of the final piece becomes a medium in itself, giving space to read aloud each of the texts used while the map of shared memories is created live.
For now,
Map of shared memories
has been carried out in Madrid, Barcelona and
CDMX
.
______________________
USED MEMORIES:
-
Plaza Colón
- I did my first half marathon.
- At the end of
Gran Vía, just in front of the first corner of the Banco de España
. Whenever I pass by, I stop to take a photo at the window of the building. The sky is reflected on the glass and it's unreal.
- I broke my chin riding my bike on
Fuencarral
, thirty seconds after leaving home.
- On
Calle San Enrique
(
metro station Estrecho)
I let myself be robbed by a woman who told me she was my neighbor. I didn't know how to handle the situation, I was stoned.
-
Moncloa metro station
: The first time I arrived to Madrid from Pamplona with one of my best friends to look for flats and live together.
- In the gardens of the
Palacio Real
I had my first kiss with the boy who is now my husband. We went there because he used to hang out with his grandmother there when he was little and have ice cream at Palazzo.
-
Calle Preciados
. It was where I sang in the street, with my guitar, for the first time. I was nervous, but it was the first of many performances and the beginning of hundreds of good stories.
-
Calle Desengaño
: I met a guy from London who was passing through through Tinder and there, with the window open watching the first employees arrive at Primark, we ate for hours. We ended 8 days together without separating for a minute, like on a honeymoon. We said goodbye and have never heard from each other again. This was in the summer of 2019.
-
Madrid's amusement park
, school trip, 13 years old. We arrived, we got on an attraction, we left the backpacks to the companions who were not getting on and when we got off, they had stolen everything. (Cameras,phones, towels, food, money...)
- La
Gran Vía
: The street was closed all day for maintenance and while it was raining I had my first dance at night.
- In
Delirio
(bar in Chueca) something happened to me that I will never forget, and that is that they stole my wallet but they kept telling me that I was gorgeous. I found out about the robbery when I got home, but my self-esteem was so through the roof that I hardly even cared.
-
Tirso de Molina
. The first kiss with the love of my life, whenever I pass by there I get excited and my skin crawls.
- I'm on the subway, between
Embajadores and Callao
stations, I was 12 years old and I was going to see my mother. There were a lot of people. A man cums on my leg, I cry and I can't say anything, people look at me strangely... The beginning of my problems with sex.
- In one of the twin fountains of
Puerta del Sol
I started and ended with my partner (it was not planned).
- At
Atocha station
, waiting for the train, I slept for the first time with my first boyfriend on the station seats.
- In the underground of
Azca
, my phone was stolen one night.
-
Metro Sol
: a boy threw an open can of beer at us for not wanting to talk to him.
- Our first date was to
Retiro
. We were not aware that we would still be a couple 7 years later!
- In the
Retiro
park, I remember that it was the first time I visited Madrid and it also coincided with the launch of "Pokémon Go", I was on a bench drinking a juice, when suddenly I was surrounded by a group of people who came in my direction wanting to catch a Legendary Pokemon.
- At the
Sol metro station
, I did have my first kiss with the man who was my first great love.
-
Moncloa Interchange
. It's a place to come and go. Sometimes alone and sometimes with company. I've gotten lost at least 4 times between the docks and the station floors. I think about the bad smell in the toilets and the lovely girl at the cafe I always go to.
- I forgot a hashish bit in the
Azca
park when I was 19 years old and the next day I came back with a friend and it was still there.
-
Gran Vía metro station
: place where I experienced the highest peak of happiness with my friends, just that day there was a premiere in the Callao cinemas.
-
Plaza de Olavide
: I opened and closed a pub in a matter of 6 months. My first venture, although it may not seem like it, it was a success.
- I went to eat with a guy at a restaurant in
Sol
and because of our nervousness, we couldn't eat, so we asked them to take it out and we gave it to a woman who asked for food. We finished the date under the rain at the Royal Palace.
-
Legazpi metro station
: the station that became our meeting point after 7 years of long-distance relationship.
- In June 2005 at the Batukada de Carlinhos Brawn in
Castellana
. I was 9 months pregnant and my waters broke and it was wonderful… at 20 years old single surrounded by friends.
- Last Thursday, in the lower part of
Azca
, they drugged me at a nightclub. Luckily my friends carried me home and I'm "almost" recovered.